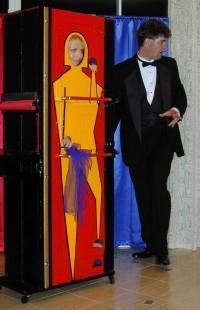 I was born in Sunny England in West Sussex. My interest in magic began when I was 9 years old when a neighbour showed me a Svengali Deck from Hamleys in London. Boy was I hooked! Over the next 33+ years my interest in magic has taken many turns. I was first introduced to Alan's wonderful mini-magic when I was 14 years old at an IBM Convention in Brighton. I remember the table of painted goodies he had and the struggle of choosing just 3 pieces. I ended up purchasing Dice-a-Matic, Oriental Blocks, and Siamese Ribbon – and I performed those 3 effects more than any Alan Warner piece since. Siamese Ribbon in particular was my favorite at that time, and for many years afterward.
When I went to college to study for my Degree in Computer Science and eventually a Ph.D. my interest in magic still continued, but not as keenly as the previous ten years. My passion for writing software eclipsed my passion for magic. With the advent of the Web I found a way to link these two passions and created my first magic related web site in 2000 for Viking Magic.
Shortly after the Viking site went live my own site: Martin's Magic Collection went live and was the beginning of many more successful magic sites and a whole new career path for me. I founded my own web company in 2001, Digital Cheetah, and although we have not been building magic websites for many years the seeds were sown.  In 2008 I started another web company with my wife called Double Fox Websites and I'm pleased to say they are continuing the magic website tradition that I began with Digital Cheetah.
I still perform magic, but nowhere as much as I used to. The company and all the darn magic web sites I have created take up all of my spare time! I live in Spicewood, Texas just outside of Austin, with my beautiful wife and two kids.